ParentPortal & SchoolEngage
Steps into Parent Portal
Step 1: go to https://wolfcreek.powerschool.com/public/home.html
Step 2: Sign-in or Register by selecting the "Create an Account" and follow the steps.  You must register a child when you create your account.  For this you will need each students ID and password, which can be accessed by contacting the school.
Step 3: Once you have created your account and added your student(s) you can now login and access their profiles, pay school fees and view attendance.
TIP: If you have forgotten your username, please contact Mrs. Dennehy. If you have forgotten your password, Mrs. Dennehy can re-set it.
Parents User Guide to Rycor Online Payments.

Pages 3-5: creating a new parent account, parent portal single signon instructions, add students, & sign in to fees payment

What browsers to use and what not to use.

Parent Portal - Change your credit card information
Contact the school if you have further questions.
Alert Preferences
Parent Portal – Alert Preferences
Our school uses Power Announcements to send out notices regarding absence attendance alerts, online payment information, and other important school updates and announcements. These are the "robo-calls" you receive occasionally. If you would like to change the contact method options for Power Announcements, you can do so through your parent portal!
1) Login to your Parent Portal on our website
2) On the left hand Alerting menu, click SwiftReach/SwiftK12
3) On the top right hand bar, click Alert Preferences
4) You can select or un-select the contact methods for Attendance and General Information alerts. It is highly recommended that you do have at least one contact option selected for safety reasons regarding unexcused student absences, as well as for important information shared occasionally each month
*Please note that you cannot change the phone numbers or email addresses connected to these contacts; please contact Mrs. Dennehy in the office to update any contact information*
Steps to SchoolEngage (for returning student registration)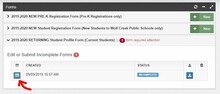 Step 1: In ParentPortal on the left hand side menu you will find SchoolEngage at the bottom. Click it.
Step 2: In SchoolEngage on the left hand side menu you will find 'Students', click it.
Step 3: For each student you have, if there is a red icon at their name a form needs to be completed for them. Click on the student, and the forms that need to be completed are in red. Open the form by clicking on the blue square (image above shows this)
Step 4: Complete the applicable form(s) and submit. 
Contact Mrs. Dennehy at the school office if you require assistance. A computer can be made available to you at the school should you need it.